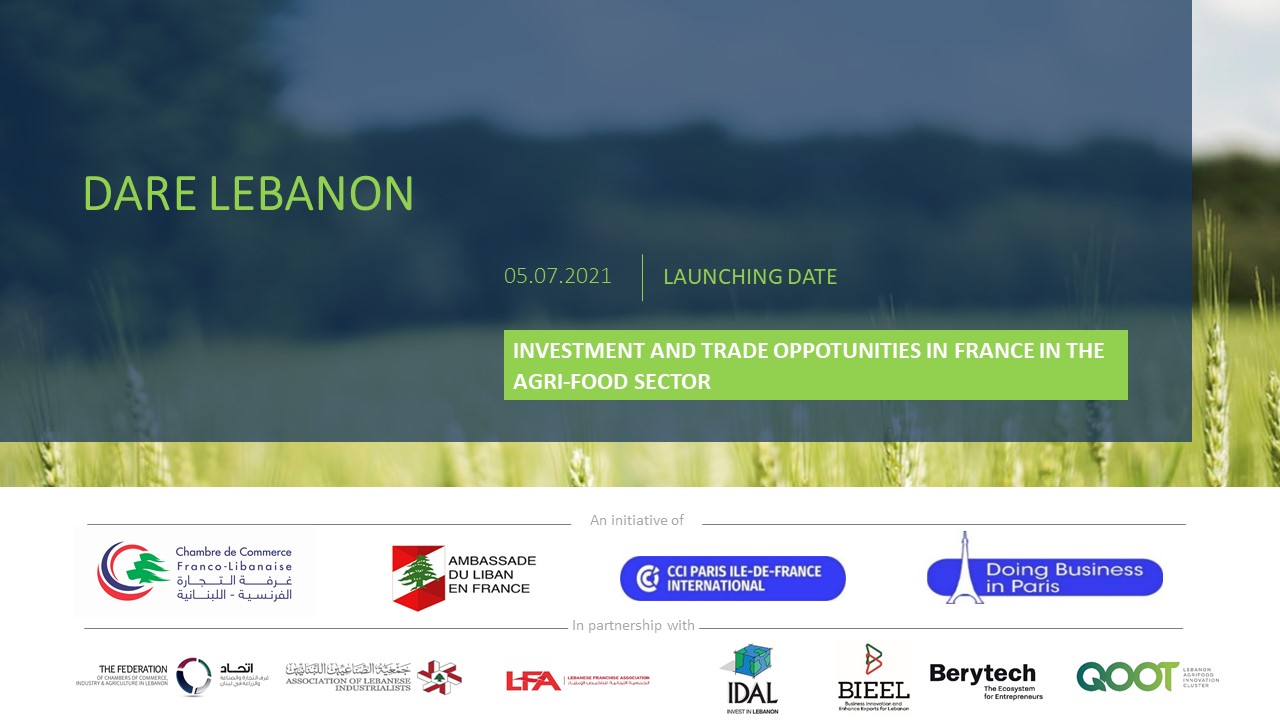 VIEW PROJECT PRESENTATION HERE
---
The French Lebanese Chamber of Commerce (CCFL), as part of its mission to promote business between Lebanon and France, and as one answer to overcome the economic crisis in Lebanon, is launching a new initiative: « DARE LEBANON » in partnership with the Lebanese Embassy in France, the Chamber of Commerce and Industry of Paris Ile-de-France, and Doing Business in Paris.
This operation is aimed at supporting Lebanese companies in the agri-food sector to export their products to France or to establish partnerships with French buyers in the food industry. It includes training Lebanese exporters, helping them finding and targeting French buyers, increasing the visibility of Lebanese brands, promoting their quality and innovation, informing French buyers, and lifting their awareness and interest to Lebanese products.
Upcoming activities:
A FREE Virtual training for Lebanese agribusiness companies on the subject : " HOW TO SUCCEED IN ENTERING THE FRENCH FOOD MARKET "
A support mission for eligible Lebanese companies with « Doing Business In Paris", allowing them a more targeted opening on the French market and the conclusion of partnerships.

CLICK HERE TO REGISTER 
Tailor-made events: tasting, culinary training and experiments with big Lebanese and French names.
An informative webinar for French companies on existing opportunities with the Lebanese agri-food sector.
---
For more information please contact: Mrs. Dania Khalil: dkhalil@ccfrancolibanaise.fr;  contact@ccfrancolibanaise.fr
T + 961 3 403 439